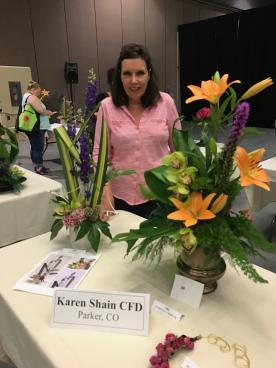 Karen Shain
- Owner / Certified Floral Designer / Certified Balloon Artist
Karen is literally living her life-long dream of owning a flower shop on Mainstreet! Call it destiny or not, the Universe has found a way for Karen to finally do what she loves. Karen has always enjoyed the beauty of flowers and decorating for parties and special events. She started her own floral business working out of her garage many years ago while working full time in the corporate/legal world. Karen enrolled in floral training at the New York Institute of Art and also studied to become a Certified Balloon Artist/Decorator. After leaving the dull boring job in the corporate/legal industry, Karen took a part-time job as a floral clerk in a local grocery store while continuing her education by taking more floral design classes and attending balloon conventions. "The best part about my job now is that I am surrounded by very talented, positive, creative people who inspire me every day to be the best that I can be. I am so thankful for the support of my family and my flower family, you all are Rock Stars!" Recently interviewed by
Parker Chronicle online. Click here to read more.
Daisy Lister: Store Manager As my mother once said, "even noxious weeds can aspire to become a flower one day". Fun little fact: oxeye daisies are in fact noxious weeds! Yes, my real name is Daisy and I do have the most convenient name for my job! On a more serious note; I love working for Mainstreet Flower Market for multiple reasons, but two really stand out most to me. The first being the awe-inspiring, the happiest, the loving, the greatful, and even the tragic stories that I get to hear as to why someone is purchasing flowers. It's not just the stories though, it's all the people I have gotten to meet who share a brief moment of their time talking to me as well. The second reason being the love and support that everyone within MFM shows one another; we are truly a family away from home. When I am not at Mainstreet Flower Market, I can be found sharing a good laugh with some friends, eating sushi at one of my favorite restaurants, traveling the world, or escaping the city for some fresh mountain air!
Maria Sanchez - Lead Floral Designer
Maria comes to Mainstreet Flower Market with over 30 years of experience as a florist. Traveling with her husband throughout his Army career has given Maria the opportunity to work with several flower shops across the country and has allowed her to learn everything there is to know and understand about how flower shops work. Maria has earned several certifications for Floral Shop Management, Outstanding Team Building Skills, Floral Training/Buying in Floridaora, and Outstanding Customer Service Skills. Maria has served on a Holiday Planning Committee for 10 years and is a Candidate for AIFD Certification. "I am still, after all these years passionate about continuing to learn from co-workers and going to design shows. I enjoy swimming for exercise and taking long walks, spending time with loved ones." Maria's favorite flower is a purple hydrangea.
Tanja Arana - Lead Wedding and Event Floral Designer
Tanja has nearly 20 years of experience and professional Tanja Aranatraining in Germany when she came to Mainstreet Flower Market as a Lead Designer. Tanja graduated from BBSII School of Floral Design in 2001. Her floral training included wedding, funeral, event design as well as daily creations, management, business and customer service. Tanja has brought her European design skills to the US in 2010 and incorporated it with the American style. A few of Tanja's favorite things : "My family including our dog and cat, the Broncos and we're still exploring the beautiful sights of Colorado. I love working with all kinds of of different flowers, colors, shapes and textures - whatever mother nature has to offer! The best part about working at Mainstreet Flower Market, is that we are more likely a family than just employees."
Hannah Shain - Co-Owner / Marketing
Hannah is one of the co-owners of Mainstreet Flower Market, working all things marketing, particularly related to social, web design, and online experience. She loves working at the shop as a dynamic mother-daughter duo with her mom and primary shop owner, Karen Shain. The two lead event planning and wedding designing throughout the year.
Jen Carey - Logistics Manager
Jen is our smiley, bubbly, energetic logistics manager that keeps our shop running smoothly and handles anything and everything we ask for. Jen is from St. Paul, Nebraska (Go Cornhuskers!), and moved to Parker 6 years ago. She's been married for 20 years now with two kids, and heavily involved in the youth sports teams in Parker, CO. In Jen's previous life, before flowers, Jen was a personal trainer.
Stacey Rodriguez - Floral Designer
Stacey Rodriguez joined our team in 2017. Stacey and her family moved to Colorado from Chicago and always brings an upbeat and energetic attitude to work everyday. We are so thankful to have Stacey as a member of our team.
Annie Kwon - Floral Designer
Annie Kwon comes to us with many years of floral design experience and has shared her techniques and design skills with the rest of the team. Annie and her family moved to Colorado from California and we are so thankful they chose Parker, Colorado to live and work here.